July 25, 2020 - Store back open for now. Things might ship a bit slow due to COVID-19. Thanks for your patience and understanding.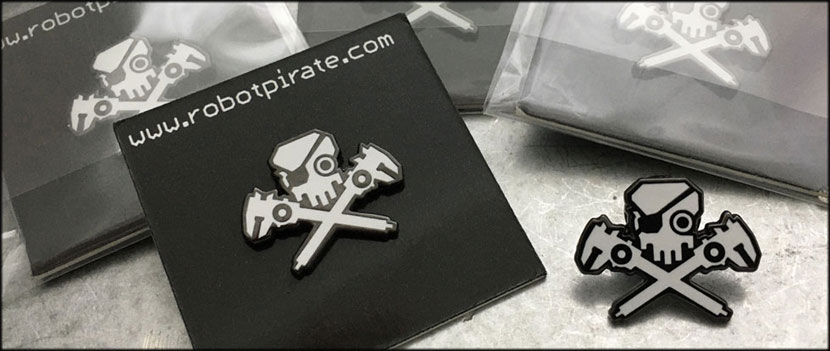 Also added 1" hard enamel robotpirate logo pin to the store as well as a link to my teepublic shop where robotpirate logo tshirts and stickers and such can be found. Thanks!
February 2, 2020 - Store closed temporarily, will re-open soon
June 14, 2019 - New Display Board - IN-12x6: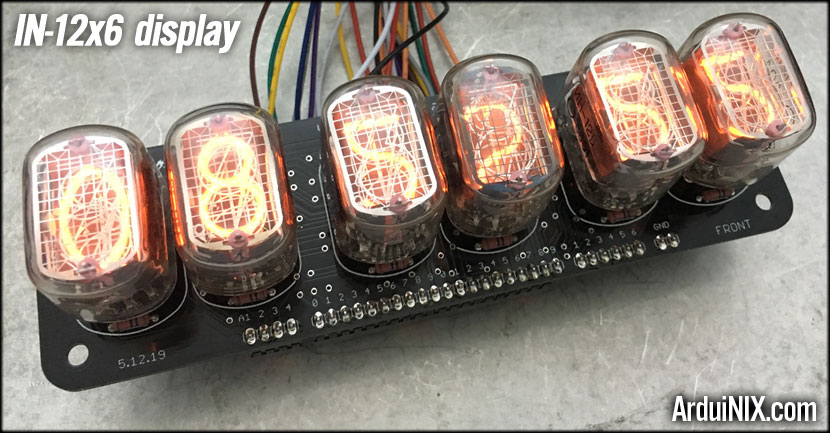 Can be used with IN-12a or IN-12b tubes. B style tubes have decimal indicators. These can be activated by grounding out one of the six pins to the right of the cathode bank.
April 5, 2019 - STOCK UPDATE: ArduiNIX mainboards back in stock, so kits boards, and pre-assembled units are available again in the store. Pre-assembled units now no longer have choice for pre-installed anode and cathode headers, but headers are included for you to solder in.
March 13, 2019 - IN17 STOCK UPDATE: IN-17 nixie tubes are out of stock temporarily, more are ordered. Until they come in, I've taken the IN-17x4, x6, and x8 tube kits off the store page.
February 16, 2019 - IN17x6V3.0 BOARD CODE UPDATE: 6 Nixie tubes and 4 nixie dots (For colons) UPDATED to v3.1 This works with Anode1, 2, 3, 4 from the Shield output mapped directly to Anode 1,2,3,4 on the anode input on the IN17x6v3.0 board. Available on the downloads page.
September 20, 2018 - Store Update: Store open, prices adjusted, international shipping is now calculated automatically at checkout. No more "select international shipping" option. This will save my international customers some money.
July 7, 2016 - Four Digit IN-17 display boards are back! ArduiNIX IN-17x4V3 kit and board now in the store.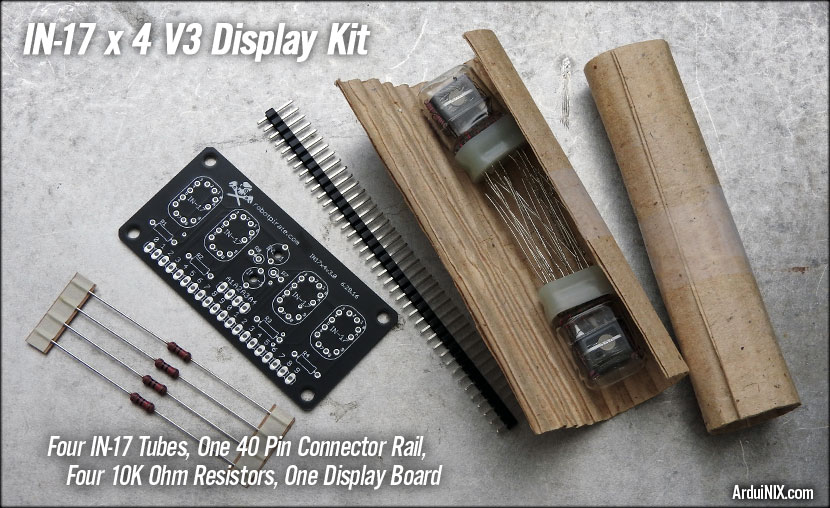 June 25, 2016 - New Product Update! ArduiNIX V3 kit and board: This board now features a much more accessible input/output section, bringing every pin the ArduiNIX Shield does not use for driving tubes up to the front header section for easy access. Now available on the store page. New assembly instructions are available here.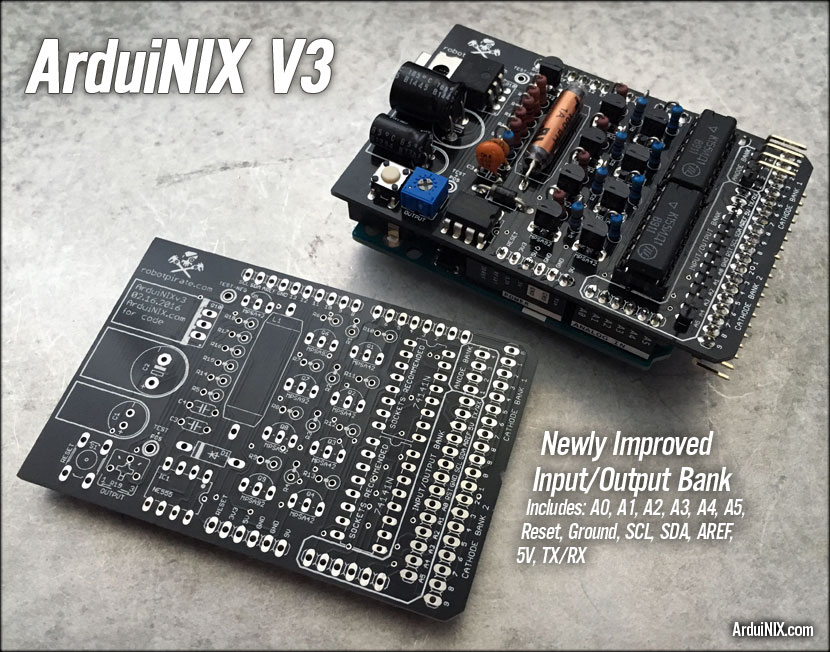 June 21, 2016 - New Product Update! Now available on the store page, IN-17 x 8 display kit and board: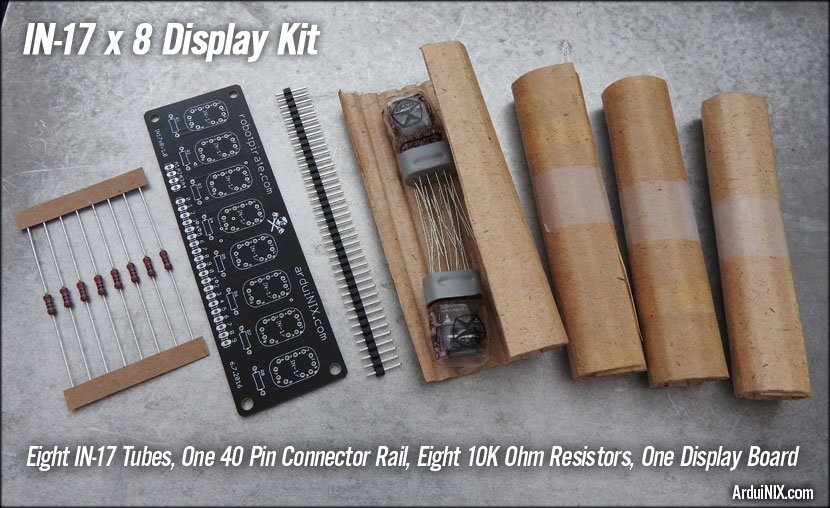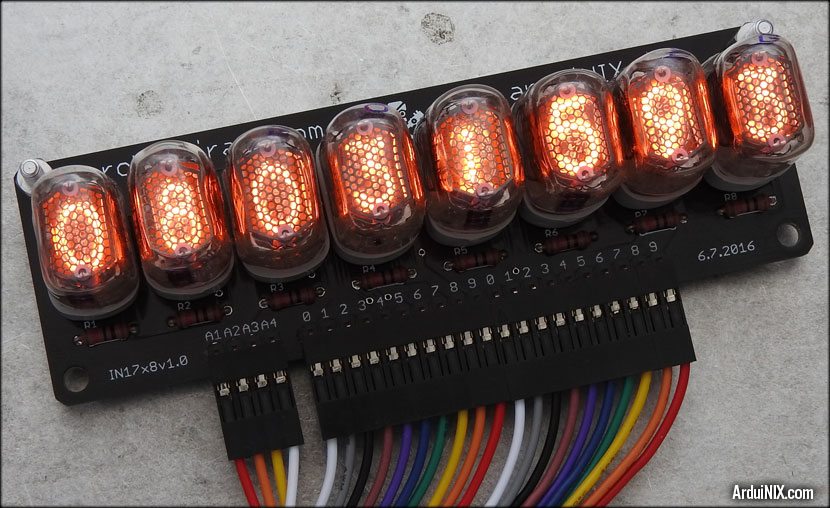 As well as IN-17x6 V3 display kit and board. IN-17x6v2 is on sale.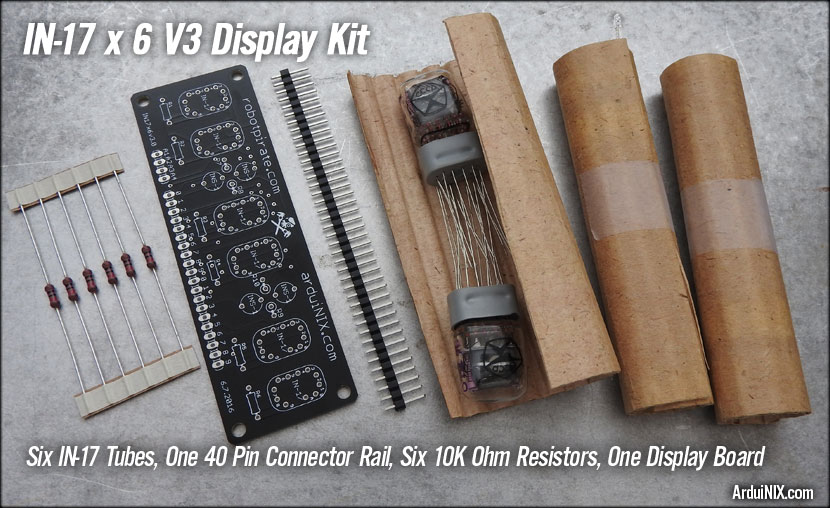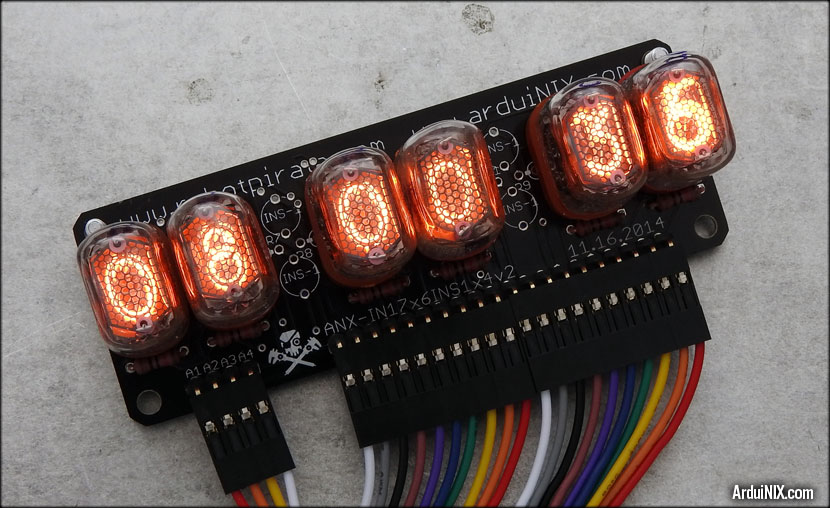 May 21, 2016 - Now offering fully assembled and tested ArduiNIX Shields - now available on the store page.
February 20, 2016 - Anode and cathode cable pack now available on the store page.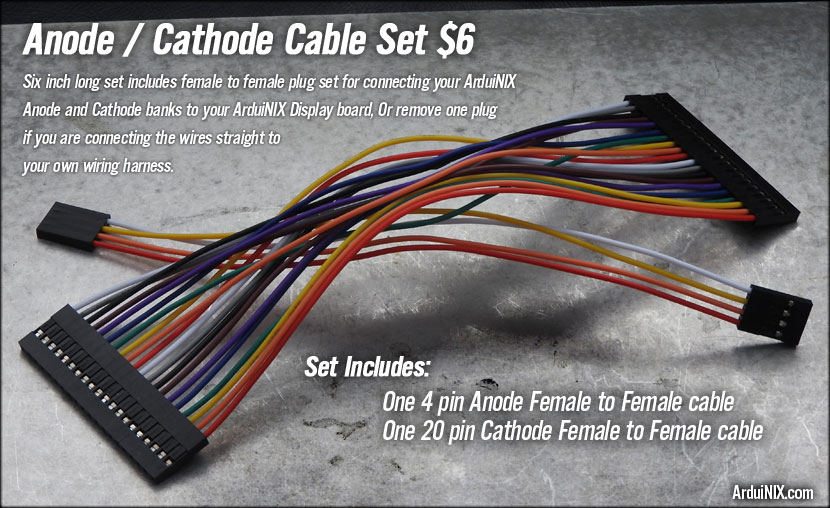 October 14, 2015 -Store Update: ArduiNIX V2 main boards and kits; IN-17x6V2 main boards and kits back in stock! Check out the store page and refresh it with F5 if need be.
September 26, 2015 -Store Stock Update: ArduiNIX V2 main boards out of stock, which means V2 kits are as well. I'm placing an order for both the V2 main board and the IN-17x6V2 expansion board as well, so look for those to be in stock in a couple weeks. Slothfurnace V2 Clampcards are still in stock, complete your ESB Luke, ROTJ V2 Luke, or TFA Finn saber build today!
April 18, 2015 - Store is open, IN-17 Tubeboards and kits are back in stock. A limited number of V1 IN-17x6 tube boards and kits are available. I will most probably not be ordering more of this board, but they are available while the stock of 25 boards are here. When they're gone, they're gone. IN-17x6 V2 boards are back in stock and will continue to be restocked going forward.
January 27, 2015 - Shipping Update! All current ArduiNIX kit orders now come with a 5.6 pf capacitor for position C3. If you would like the additional caps to try 1pf for higher voltage (approx 200-300 volts) or the 47pf cap for lower voltage (approx 90-170 volts) please email me with your order. For now, the 5.6pf is the sweet spot of around 120 to 200 volts. When I am out of the 1pf caps, I'll discontinue them.
December 09, 2014 - Here's your basic instruction sheet for both versions of the ArduiNIX:
Step

Part Name
Board Location

1

ANX_Board V1 OR V2
Damper Diode 1.0 Amp 400 Volt
D1
100uH 1 Amp RFI Suppression Coil
L1
25 Volt 470 uF Capacitor
C2
350 Volt 1 uF Capacitor
C1

6

500V 1pF NPO Capacitor

(approx. 100V-200V output)

OR

500V 47pF SL Capacitor

(approx. 200V-300V output)

C3

1

500V 47pF SL Capacitor
C4

1

IRF730 400V 5.5 Amp Single-Gate MOSFET
Q10
1/4" Squ 1K 10% Single Turn Trimmer
R19
6X6 FLAT 4.3mm BTN Tactile Switch
S1
General Purp Single NE555N Timer IC
IC1

13

1/4watt 33Kohms 5% Metal Film Resistors
R1-R5

5

14

1/4watt 100Kohms 5% Metal Film Resistors
R6-R9

4

15

1/4watt 470K ohm 1% Metal Film Resistors
R10-R13

4

16

1/4watt 1Kohms 5% Metal Film Resistors
R14, R15

2

17

1/4watt 10Kohms 5% Metal Film Resistors
R16

1

18

1/4watt 220Kohms 5% Metal Film Resistor
R17

1

19

1/4watt 470ohms 5% Metal Film Resistor
R18

1

20

PNP MPSA92 Small Signal Transistor
Q6-Q9

4

21

NPN MPSA42 Small Signal Transistor

Q1-Q5

5

22

Nixie Driver IC - SN74141 *OR* Equivalent
IC2, IC3

2

40 Pin .100" Pin Strip Headers
Pinrails

1
Please note, if you want a voltage range of approx. 100-200 volts, use a 47pF capacitor in position C3. If you're looking for more output in the 200-300 volt range, you can use a 1pF capacitor in C3
November 23, 2014 - As version 2 of the ArduiNIX shield is being rolled out, I'd like to talk about the plan going forward.
I will be discontinuing the version 1 ArduiNIX shield, and placing remaining stock of V1 on sale till they are gone. The old IN-17x4 and IN-17x6 boards will be phased out as well in favor of V2 versions of those boards. Note! there will be no compatability issues from V1 and V2 kits, as the pinouts will remain the same. However, V2 tube boards will be standardized internally, such that 6x and 4x tube boards will use the same code.
The V2 6x tube boards should arrive next week, and will feature the new standardized tube wiring layout, as well as spots for four INS-1 colon dots for Hh:Mm:Ss separation.
Following that, new V2 4x tube boards will be available. These will have spots for two INS-1 colon dots for Hh:Mm display.
If there's interest, I have an 8x IN-17 tubeboard designed.
November 20, 2014 - ArduiNIX V2!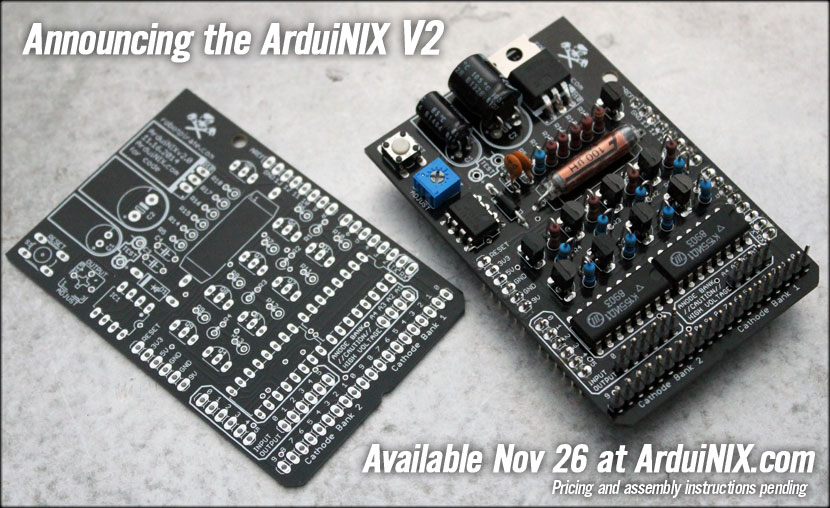 Improvements include:
Better parts layout for ease of assembly: non-anode channel resistors all located in a row
Tall parts located at rear of board, for fold down option that reduces overall shield height
Standardized 555 timer chip wiring in power circuit
New input/output header
Better test points
Same parts list
No more big groundplane under coil on back side of board = reduced signal noise
Improved labeling of Anode bank
Sling the capacitors UNDER the main board for an even shorter overall height
Assembly instructions are more or less the same, but as part layouts have changed, I'll be making a new assembly instruction set.
April 1, 2014 -IN-17 Nixies back in stock! IN-17 x 6 tube boards available in store.
March 16, 2014 -Testing a new batch of MPSA92s, so I have temporarily made the mainboard kits unavailable while I run some tests. Should be back in the store by end of week.
March 8, 2014 -Just delivered this clock to a customer, thought I'd show it off!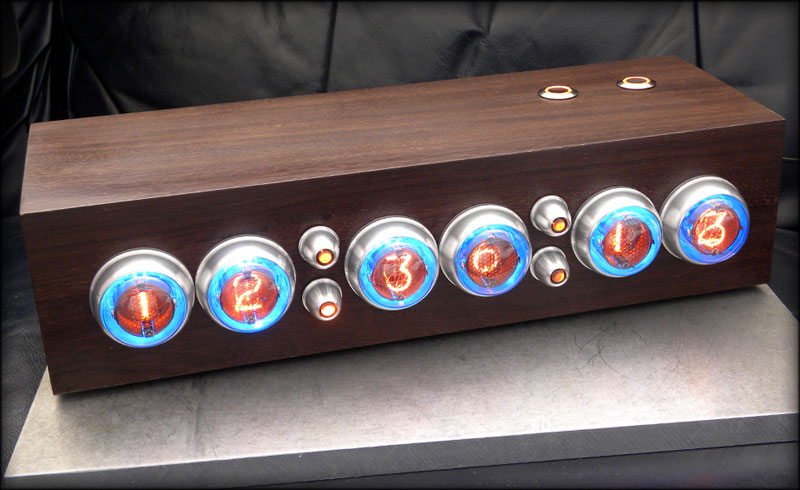 This is a 6xZ560M nixie clock with 4xINS-1 neon lamps all in custom bezels, in a hardwood box.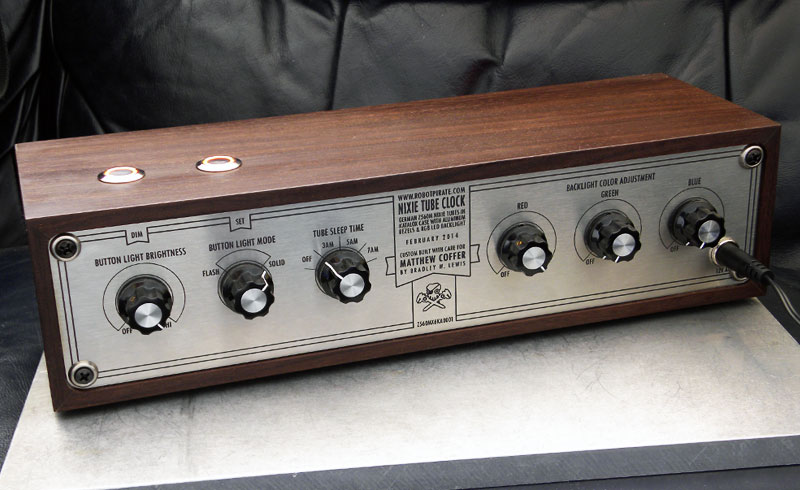 This features custom laser etched stainless steel back control panel and illuminated set and mode buttons.
March 4, 2014 -ArduiNIX Mainboards and IN-17 Tube boards in stock! I also have a small number of IN-17 nixie tubes, so if you would like a full IN-17 kit in either four tube or six tube versions, please email me for availability.
January 30, 2014 -Parts Update! All new kits shipping as of January 31 will include this new capacitor at position C1: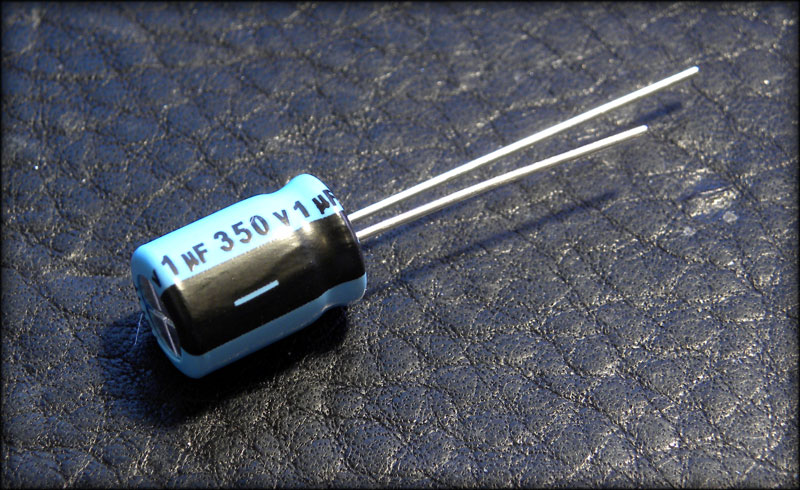 aIt is the same exact value as the previous C1 Capacitor, but just a different diameter case size. The old ones are out of stock at Mouser, and this one will fill in while the others are re stocked. This is a 1uf 350V Cap, same as the previous release. Just a tad bigger around.
December 29, 2013 - Arduinix Shield Kits IN stock! All new kits are shipping with a 1pf capacitor at position C3.
NOTE! Current batch of resistors for positions R1 through R5 are 47K instead of the normal 33K. This is due to Mouser, my supplier, sending me mis-labeled resistors. This is the reason we had a few underpowered kits a few months ago, and why all new kits are shipping with a 1pf capacitor at position C3. Once my stock of resistors is gone, I will be ordering a new batch of components. HOWEVER, all current kits should work properly with 47K resistors at R1 through R5 and a 1pf capacitor at C3. If you have any questions, feel free to contact me, or follow Robotpirate on Facebook for up to date info!
September 16, 2013 -Nixie Entertainment System - This clock/raspberry pi game emulation station uses an ArduiNIX and an IN-17 x 4 tube board kit. Built by yours truly, for a wedding gift commission.
May 9, 2013 - IN-17 Nixie Tubes TEMPORARILY OUT OF STOCK - Check back soon, as I have some on the way from Russia... with love! Also, Forum member Risen has sent in some great shots of his gorgeous clock build!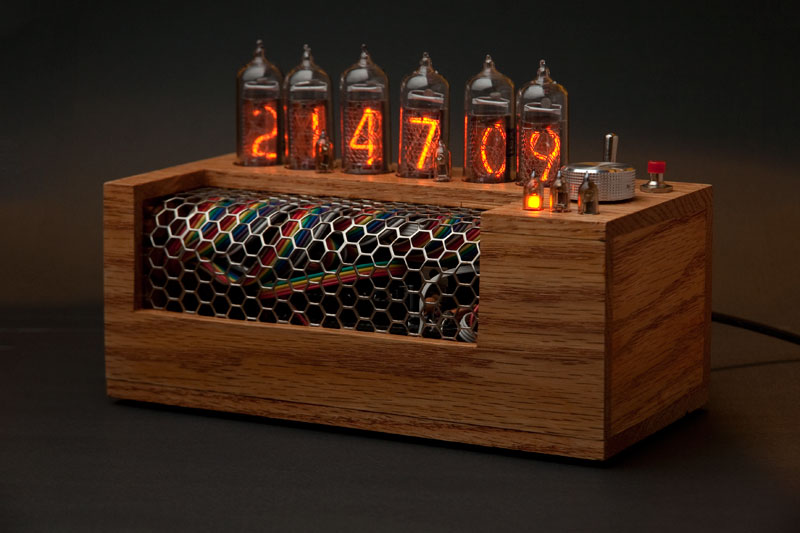 Beautiful!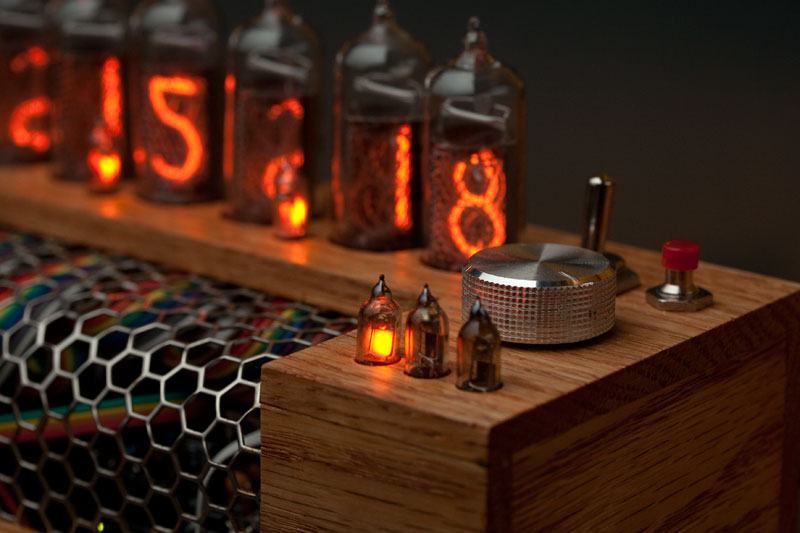 February 27, 2013 - CODE UPDATE!! - New version of Six Tube Clock Crossfade, with flickering fix, for more steady illumination plus crossfade of digits. This code is designed for default connections of our IN-17 6 tube board.

February 24, 2013 - IN-17 Nixie tube still scarce, will restock IN-17 tube boards and kits when and if I find a new supply. In the meantime, I just completed a new high end clock commission: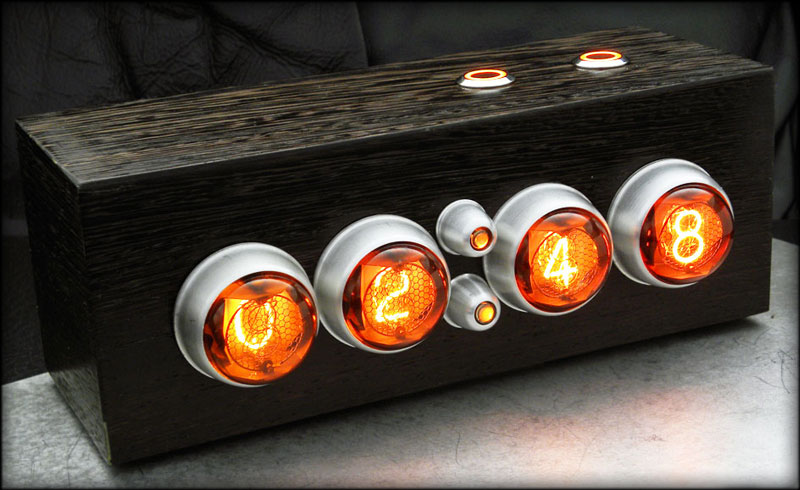 Apart from the kits I sell here, I do the occasional high end clock build. This one features 4 z560M tubes, two INS-1 dot colon indicators, two illuminated ring buttons for set and mode, and a laser etched rear control plate.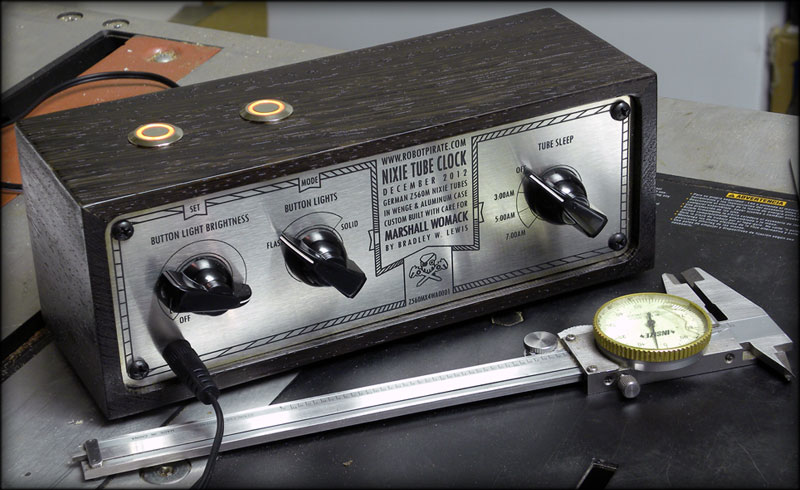 Here you can see the control plate and personalized laser etched design. Very vintage, was sorry to see this one leave the shop. I need to make a copy for myself.
June 18, 2012 - James Griffith sends in this awesome handmade build: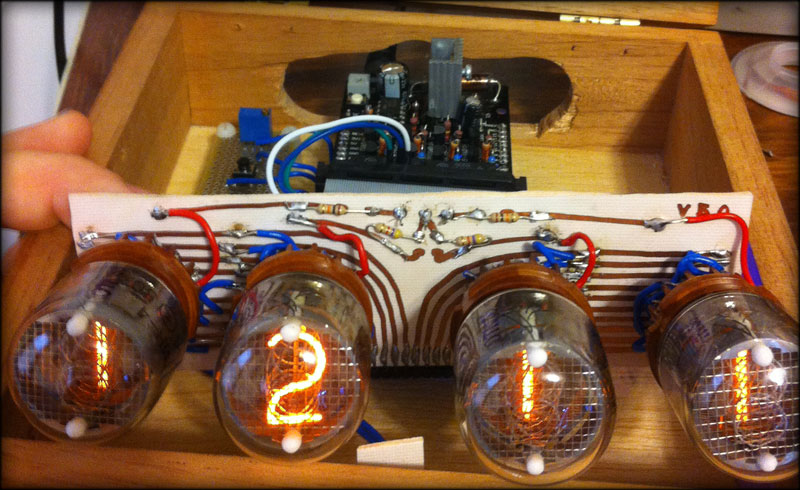 April 17, 2012 - Quick tip about assembling the IN-17 Tube boards: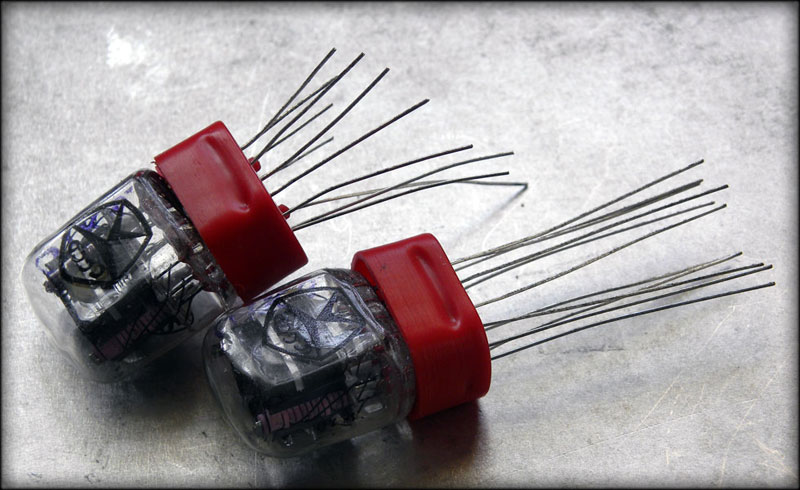 Starting with the anode, or either pin in the gap, really... Leave the first pin untrimmed, but trim each progressive lead about a millimeter or two. As you go, they should get progressively shorter. Make sure the last lead is still long enough to make it through the PCB for soldering.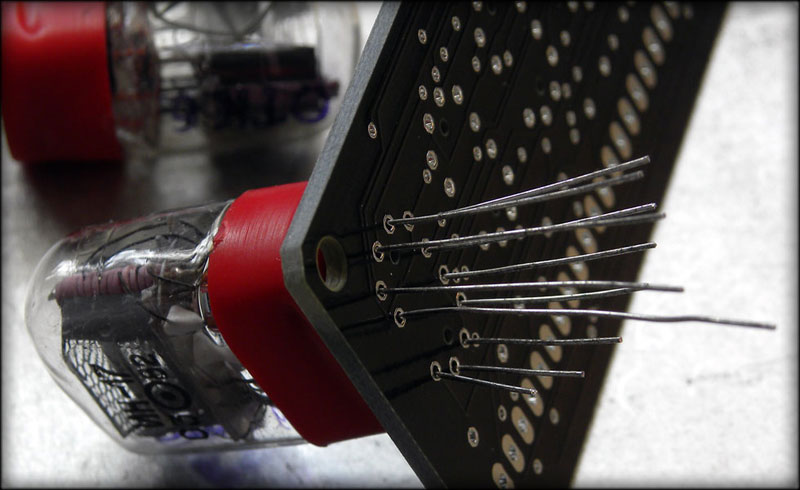 When inserting into the board, start with the longest lead, walk around till you have all the leads inserted. Having them trimmed progressively shorter is a HUGE time saver, and is so much easier to install this way.
April 16, 2012 - Sweet double ArduiNIX clock from Carnegie Mellon Build 18 event! From Derek:
"The clock displays time and date of which get synced from the internet and stored on a RTC module (no millis() function running this clock!). Since I was using so many tubes I had to use two arduinix modules. The case was made acrylic that I laser cut from a Solid Works drawing."
Thanks Derek!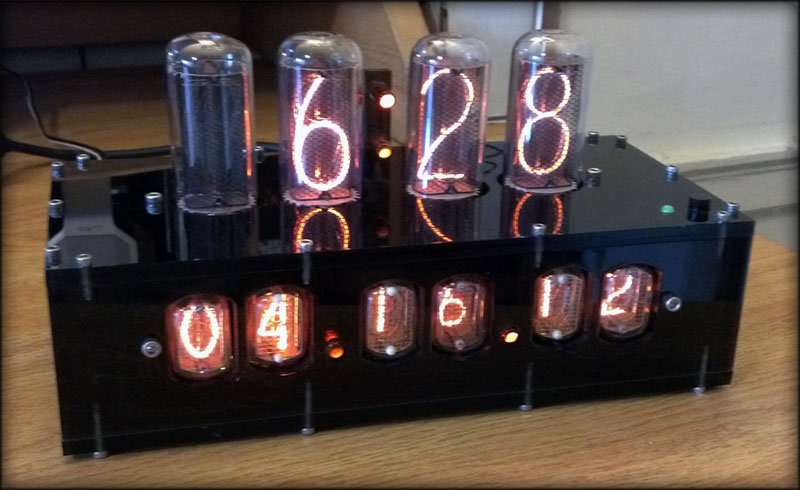 March 21, 2012 - Amazingly cool timelapse ArduiNIX assembly vid! Thanks veriquex!
January 1, 2012 - SWAG! I just got in an order of stickers and shirts, considering adding robotpirate logo Tshirts to the store. if interested, email me at bradley @ robotpirate.com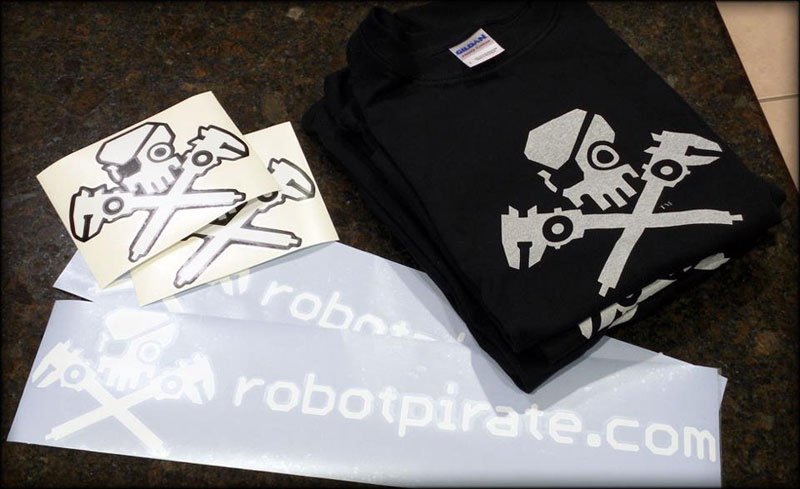 December 23, 2011 - Recent orders will have a delay due to Christmas Holiday, I will start shipping out beginning Wednesday the 28th. Merry Christmas and Happy New Year!
November 19, 2011 - ArduiNIX 1.0 kit featured in MAKE Magazine's Ultimate Kit Guide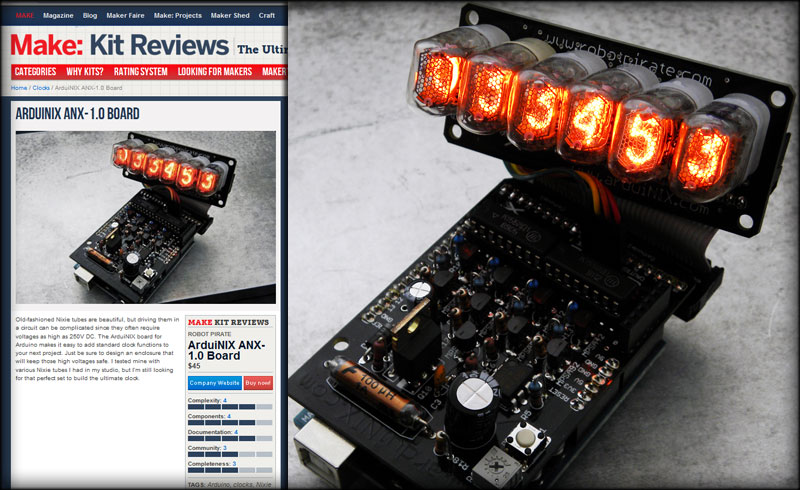 The print and web edition of MAKE Magazine's Ultimate Kit guid features our ArduiNIX kit! So honored to be in the pages of MAKE! On newsstands and internet browsers now!
November 16, 2011 - IN-19a, IN-19b alphabetic display!
These Russian IN-19a and IN-19b tubes display different letters and symbols. JUST enough to spell my daughter's name. Unfortunately, these tubes didn't include a capital N. But, it's nice to use an ArduiNIX for something other than a clock!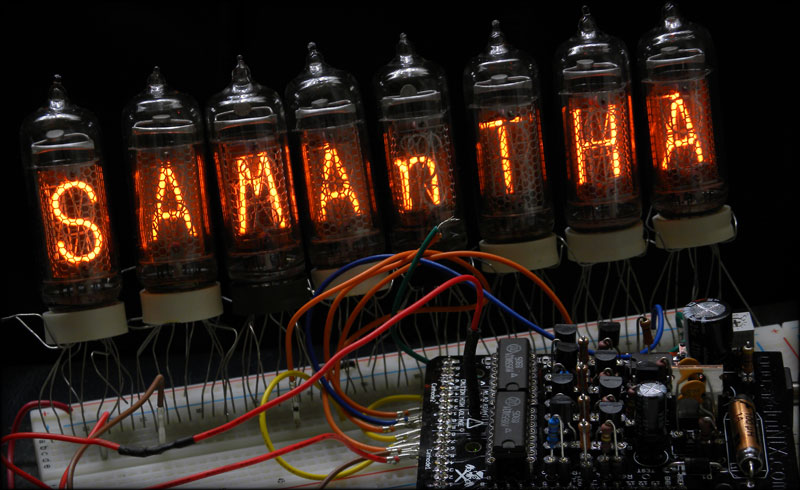 November 13, 2011 - IN-17 Nixie Tubes just got really hard to find!!
Unfortunately, my suppliers overseas just got bought out of their stock of IN-17 Nixie tubes. Therefore I have listed them as out of stock in the store, till I can secure a new supply. Tube boards are still available, however.
November 1, 2011 - Crossfade code Flicker and Fade fix!
With help from Warcabbit, we've been able to fix the second to last digit crossfade issue in the 6 bulb crossfade code! This has been an issue for a while, so if you have the six tube board download the new code now!
August 30, 2011 - ArduiNIX approved 9V power supplies - Now in the ArduiNIX Store!
These are perfect for powering the Arduino/Arduinix combo. Individually boxed. Manufacturer's Description: High quality switching 'wall wart' AC to DC 9V 650mA wall power supply. These are switch mode power supplies which mean the output is regulated to 9V and the capable output current is 650mA.
These will power most projects that don't require more than 650mA of current. Center-positive 5.5x2.1mm barrel connector.
Works with 100-240VAC inputs.
August 21, 2011- IN-17s freshly restocked - IN-17 x 4 and IN-17 x 6 Tube Board Kits Now in store.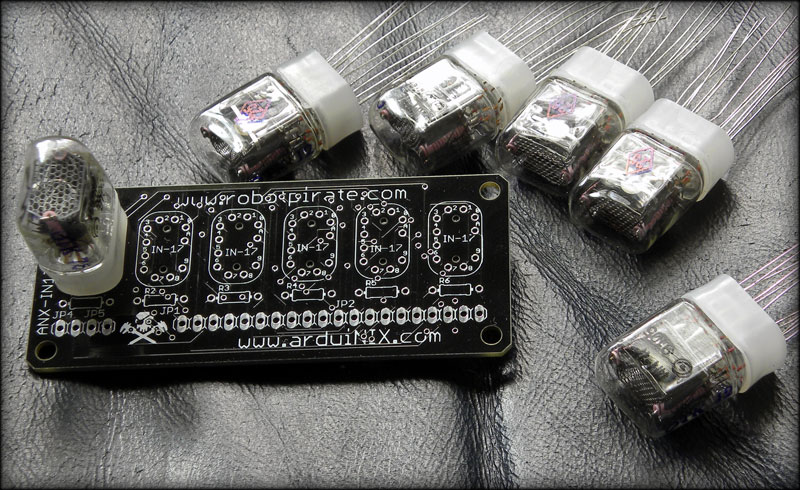 August 15, 2011- IN-17 x 6 Tube board CODE CONTEST! - IN-17 x 4 Tube boards BACK IN STOCK, and they brought a friend with them from China... Introducing the brand new IN-17 x 6!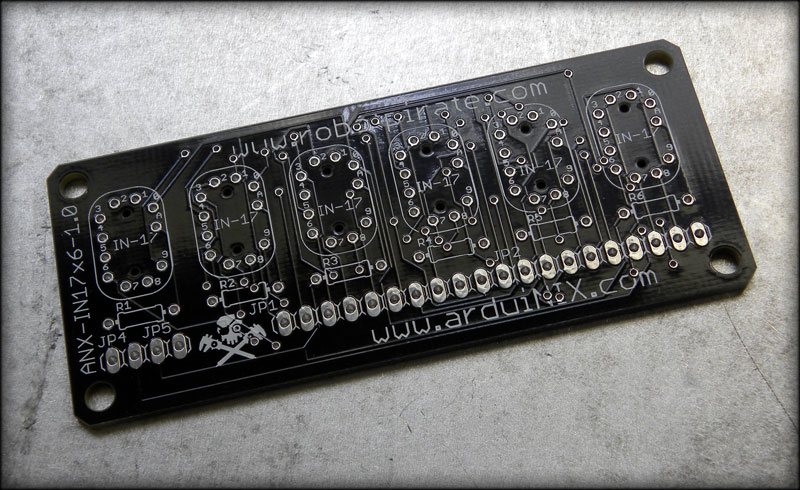 These are fresh in, so new I don't even have code for these yet, so if you'd like A FREE IN-17 x 6 Kit, SEND IN YOUR CODE! The best code gets a free IN-17x6 board WITH TUBES! That's right, folks! Enter your code to WIN! (Winner will be chosen solely by me, your friendly neighborhood robotpirate.) What's that you say? You need the pinout for this board to write the code? Certainly! It's right here: (click to make big)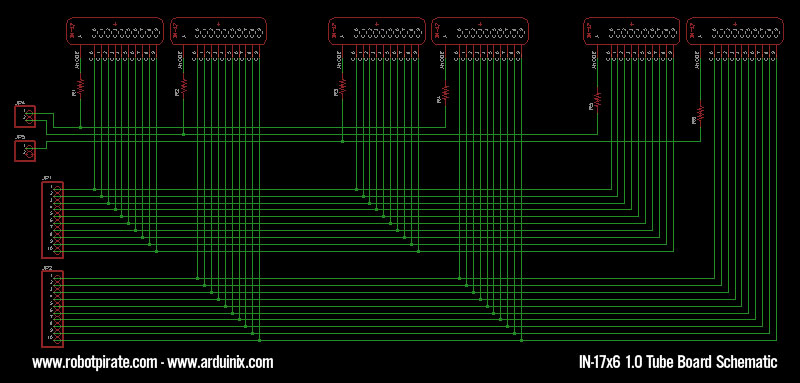 Here's what will qualify your entry. Achieve any or all of these points to enter.
Functioning crossfade clock code for this six bulb setup, with set function.
Timer clock code for this six bulb setup, set start and stop.
Anything interesting or out of the ordinary that would set you apart from the other nixie builders out there.
Code entries will be tested and finalists will be featured on the site. Winning entry will get one free IN-17 Tube board and set of IN-17 Nixie tubes. Contest ends 9/15/2011. Email bradley at robotpirate dot com for entries and info.
August 3, 2011 - Forum member radmeck Sends in this awesome build and writeup! Thanks!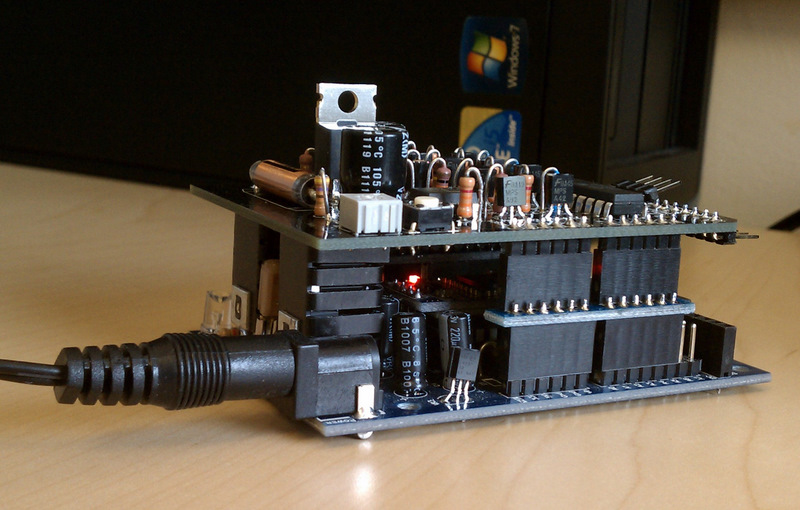 July 30, 2011 - Arduino UNO In Stock! Arduino is an open-source electronics prototyping platform based on flexible, easy-to-use hardware and software. It's intended for artists, designers, hobbyists, and anyone interested in creating interactive objects or environments. In the ongoing attempt to make ArduiNIX.com a one-stop-shop, the Arduino UNO is NOW AVAILABLE IN THE STORE!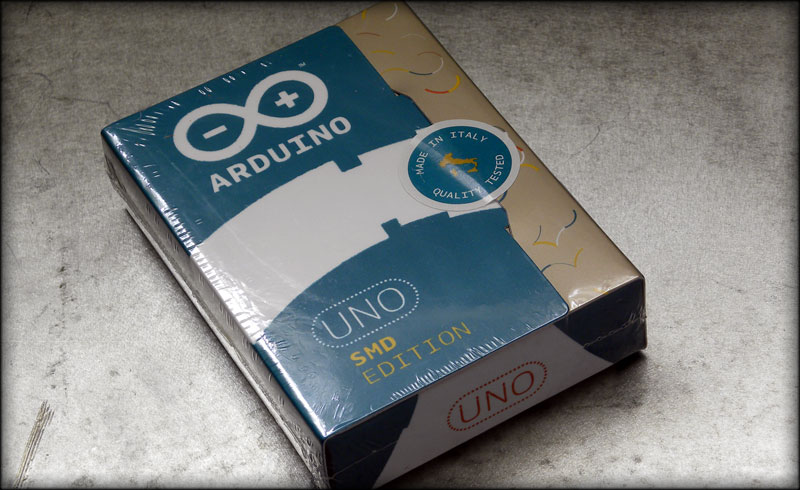 July 23, 2011 - Andreas sends in this epic vid of his ArduiNIX build! Thanks Andreas!
July 13, 2011 - Just In! Fresh stock of Russian Military IN-17 Nixie Tubes! Tubes and Kits now available in the store!
July 6, 2011 - We welcome our new daughter Samantha to the world! And open up the store again. Thanks for your patience!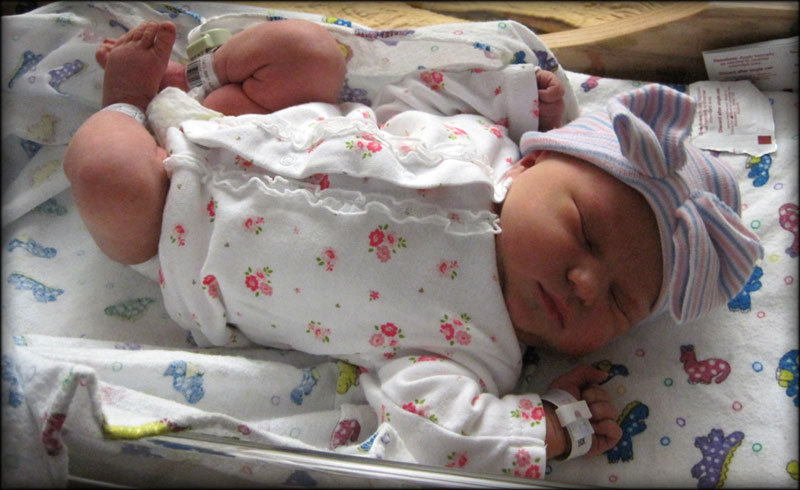 June 30, 2011 - STORE TEMPORARILY CLOSED WHILE WE AWAIT THE BIRTH OF OUR DAUGHTER SAMANTHA! Will reopen when we are home from the hospital. If anyone has items in their cart, be warned they will not ship till we get back. Thanks for your patience!
June 23, 2011 - Kits and boards back in stock! New batch of circuitboards arrived today from china. Refresh the store for updates!
June 21, 2011 - New batch of Robotpirate logo stickers in! Included with kit orders and any order over $50. Or you can add one to your order for $1. - While supplies last!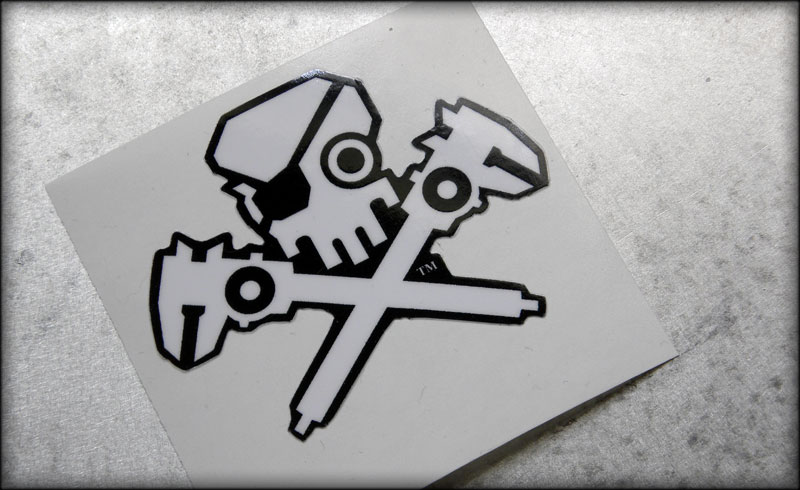 June 17, 2011 - Forum member blave549 posts some awesome crossfading code in the forums, and I shot a vid to show it off... Thanks Dave!
June 12, 2011 - Due to unexpected increase in demand, ArduiNIX Mainboards OUT OF STOCK! A new order was placed on the 10th, these should be available soon.
June 11, 2011 - Forum member stewards68 shares a newbie tutorial on the ArduiNIX! Great job! More to come!
June 8, 2011 - Forum member VFXCode posted his project, along with a couple of pics and code samples...VERY neat wiring on this clock, awesome job here!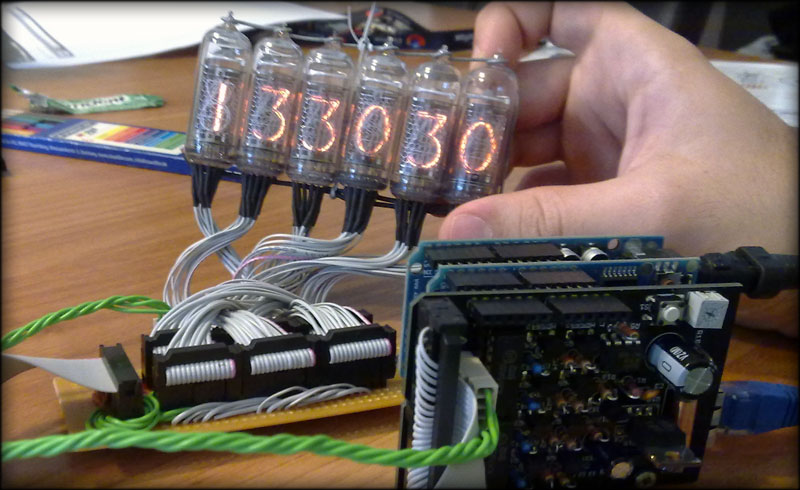 May 24, 2011 - FORUM REGISTRATION IS OPEN!!! To gain access to the forums, you will need to register, and then EMAIL ME with your username and email address, and I will approve you and let you in to the forums. I have had to lock down access due to spammers. Thank you for your patience!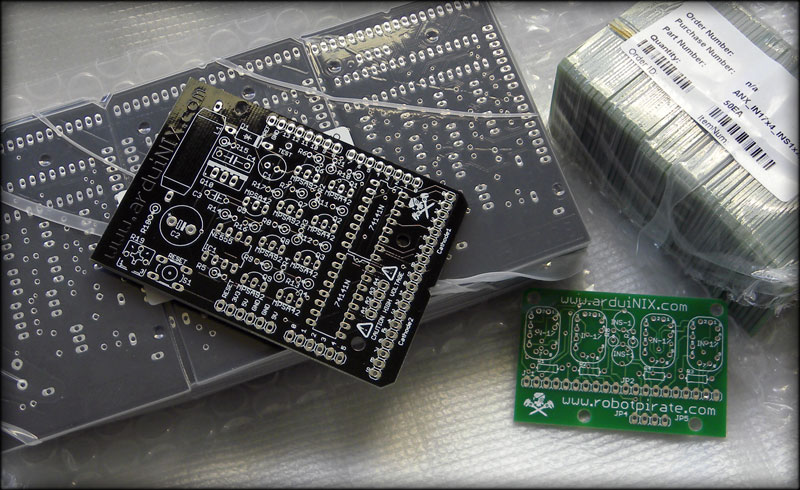 March 21, 2011 - ArduiNIX Kit circuitboards SOLD OUT! I'm waiting on an order from China, so they'll be back in stock soon, but the individual mainboard and the ArduiNIX kits are sold out at the moment. Please check back soon, or email me and let me know if you want to be notified when they're back in stock. Thanks!
November 1, 2010 - Adafruit Industries features the ArduiNIX in their Arduino Shield Gift Guide! Thanks so much, Adafruit!
September 26, 2010 - Our parts supplier is out of the 5.6 pF Capacitor we usually supply with the kit. We are substituting a different capacitor with same specs with orders going out for now, if you run into trouble with your kit, do not hesitate to let me know! - UPDATE! As of October, the correct 5.6 pF Caps are back in stock, and we're now shipping out the normal ones. No problems were reported due to the substitution, however.
December 21, 2009 - IN-17 Tube Boards arrive from China! Once Jer and I have a chance to finalize the code that supports these boards, we'll be offering them in the ArduiNIX store, but I wanted to announce that they work and show off a couple pics!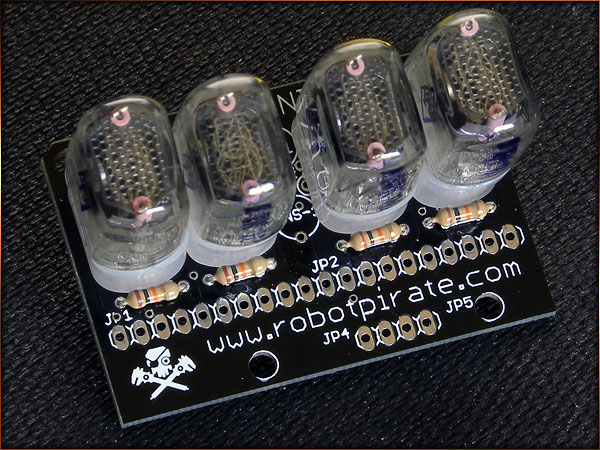 Assembled board with 4 IN-17 nixies and 4 10K resistors. Mounted to the ArduiNIX using the angled Anode connectors as a physical mount, and short ribboncable section as cathode connection.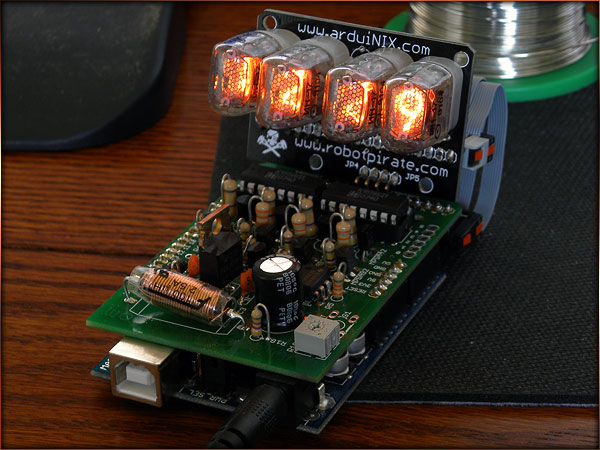 December 11, 2009 - The ArduiNIX makes the MAKE 2009 Open Source Hardware Guide - Arduino Shield category! Thanks Phillip T and MAKE!!
December 7, 2009 - Special Edition Black "One year anniversary" ArduiNIX boards are here from China! These are the exact same as our standard board but with a black soldermask, we call it the "jolly roger" board! Once the few remaining green boards are gone, all new orders will get the black ones.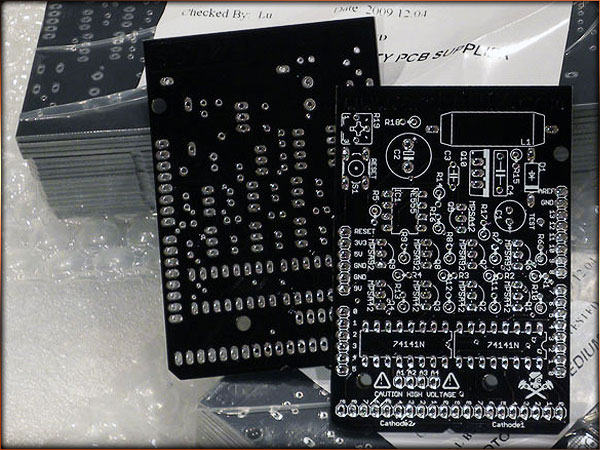 November 25, 2009 - ArduiNIX hits the front page of MAKE! Big thanks to Auraelius for the write up, and the great folks over at Make for featuring us!
November 22, 2009 - Flock of Butterflies part 4 review, discussing multiplexing!
November 1, 2009 - Flock of Butterflies part 3 review!
October 13, 2009 - New projects up in the Featured Hax section. Thanks for everyone sending in pics and write ups!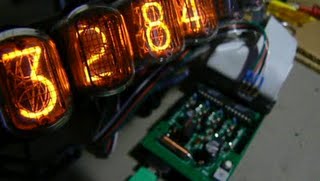 Speaking of write ups, Auraelius sends in his ArduiNIX blog, with an awesome review of the kit, and promises alternative "non-clock" projects to come. - "In the next series of articles, we'll go through the absolutely joyful process of building this kit, look into the circuit design, prototype up an eight digit nixie tube display, and write a few software routines to display interesting information and make the digits dance." - Check it out!

September 1, 2009 - If you hadn't seen on the forums, there have been a few kits report back lower than expected voltage. This is due to our original loadout for the kit topping out at 190 volts, and having combined part tolerances of around 10 percent, which may cause the voltage to dip down too far to light the nixies.

However, we have resolved the issue, and have settled on a 500V 5.6 pF Capacitor in slot C3 as a fix.

Placing a 500V 5.6pF capacitor in space C3 instead of the supplied 47pF cap will up the voltage range to 103 to 229 volts, with 180 very close to center of range. This will cover any margins of error, or plus or minus tolerances in parts, yielding the proper voltage for your setup.
Any customers having low power issues can contact us for a free 5.6pF Capacitor. They will be mailed out standard mail, domestic and internationally if need be.

All kits shipped as of next week will have the 5.6pF cap included

.

August 20, 2009 - IN-17 Plug In Expansion boards! Coming soon from RobotPirate, these boards will allow you to mount your IN-17 Nixies and plug right into the outputs of your ArduiNIX.

August 19, 2009 - Some reports of lower than expected power output may be fixed by using a 12 volt DC Wall wart, till we figure out the new set of capacitors that should be included with the kit. Once we settle on the appropriate new power supply timing capacitor that will eliminate these few issues, we will mail out free capacitors to those customers experiencing lower than expected top end output voltage. If your ArduiNIX is working fine, disregard :) If it's not, let us know pronto!

August 4, 2009 - Assembly Instructions go PDF! It's a 3 megabyte file, but it contains text and photos that are found in the HTML Assembly instructions, so you can print them out.

July 11, 2009 - HTML Assembly Instructions done - Check them out here,

July 11, 2009 - One Bulb Hookup example: In this example, the anode output channel is sending 180 volts through the 10K Resistor to the anode pin of the Nixie Tube. The driver chip on the ArduiNIX opens the 0 cathode terminal, allowing the 0 cathode lead to ground out, lighting the 0 element in the tube. This example now corresponds with the one bulb code found in the download section.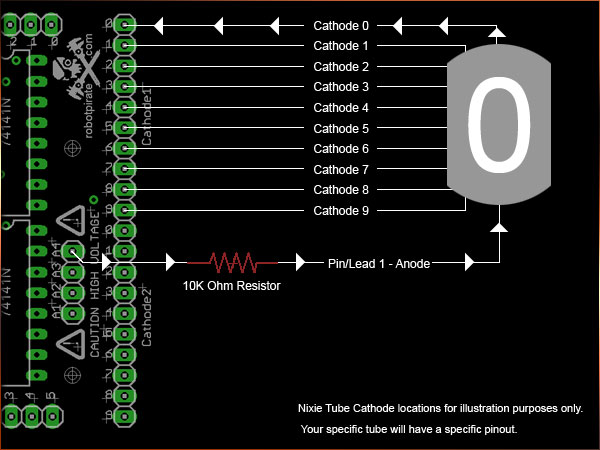 July 6, 2009 - Schematic posted! -Due to popular demand, we are posting the wiring schematic for the ArduiNIX Shield. Click the thumbnail to the right to open the schematic in a new browser window.
July 3, 2009 - Fresh batch of kits on their way!
June 24, 2009 - Master parts list published on the "about us" Section and the forums. From time to time we may change the master parts list due to availability of parts, changes in buildout for more efficiency, voltage requirements, etc., so check there often.
June 22, 2009 - Public announcement! Also, we got the forums back up and running, come join us there and help fill them out with projects, questions, comments, suggestions, etc.
And we are currently working on the HTML version of the assembly instructions for those of you with non flash enabled browsers.

April 15, 2009 - BACK IN BUSINESS!! - We have reassembled our team and have begun ramping back up on the Arduinix. In the process, we are moving the forums around and doing some general housekeeping on the sites. Keep checking back for updates!
October 24, 2008 - Our First Sale! - The first ArduiNIX kit is bagged up and mailed out toour first customer, and he reports it's working great!. Also, we sent an evaluation kit to the fine folks at MAKE magazine.
October 18, 2008 - MAKER Faire! We had an absolutely awesome time at Maker Faire Austin. We showed off the ArduiNIX and got some great feedback, looking forward to pursuing some opportunities that presented themselves. Special Thanks to Windell over at EvilMadScientistLabs. July 4, 2008 - Assembly instructions go online! This little robot will help us assemble an ArduiNIX kit step by step, with tips and tricks to get your shield up and running! You'll need the latest Flash plugins for your browser.
June 25, 2008 - The first build based on the new boards is working great! We've used ribboncable to ease assembly to the protoboard.
June 6, 2008 - ArduiNIX V1.0 boards arrive from China! Got to love the global marketplace! Big thanks to PCBCart for help with this project.
May 8, 2008 - ArduiNIX AN_01 Prototype is hot and ticking! We're using an Arduino Decemilia to control the tubes.